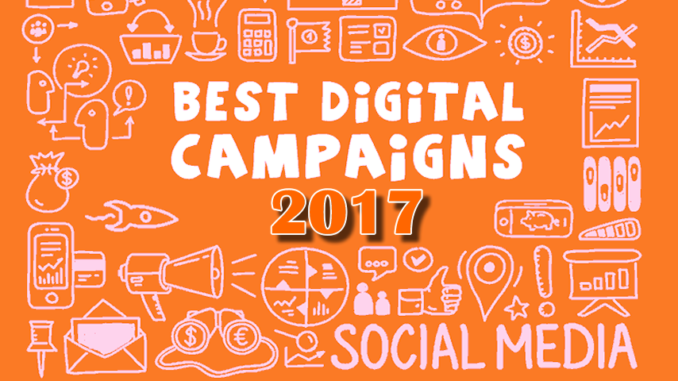 Blog Marketing - Marketing Digital - Blog Marketing Digital - Agencia Marketing Digital - Marketing Digital Colombia - Marketing Digital Agencia Colombia
Marketeros, se acabó el 2017 y les presentamos  las 10 mejores campañas globales en Social Media de 2017 recopiladas por el sitio web SOCIALSAMOSA.
1. Halo Top – Eat The Ice Cream
La escena de un prisionero anciano siendo alimentado a la fuerza con helado por un robot, era a la vez espeluznante e hilarante. La comedia oscura del comercial seguramente se destaca.
2. Procter & Gamble – The Talk
The Talk de Procter & Gamble muestra a madres negras de diferentes generaciones, hablando con sus hijos sobre el racismo. El anuncio había provocado un ruido en las redes sociales, mientras que algunos aplaudieron el atrevido intento de la marca de abordar el racismo, hubo pocos que los acusaron de hostigar a la raza.
3. Nespresso
En este anuncio, el actor Andy García llama a George Clooney para presumir sobre su "mañana perfecta de Nespresso", enviando a Clooney en una misión a casa de inmediato. Viaja con personajes icónicos de varias películas clásicas para llegar a una tienda Nespresso. Es divertido ver el acto de Clooney sin pronunciar una sola palabra.
La nueva película fue diseñada para ayudar a los clientes a absorber importantes mensajes de seguridad y al mismo tiempo impulsar una recaudación de fondos para 'Flying Start', la asociación benéfica global entre British Airways y Comic Relief. La historia giraba en torno a la audición de celebridades en bocetos humorísticos frente al comediante Asim Chaudhry por una parte codiciada en el nuevo video de seguridad de la aerolínea. La aparición de Rowan Atkinson, al final, no solo proporcionó un alivio cómico sino que también envió el mensaje para donar.
5. Apple- Dwayne Johnson
Apple y Dwayne Johnson, mejor conocido como The Rock se unieron en la última campaña de iPhone 7 donde enseñan a los espectadores cómo usar Siri todos los días. El anuncio es uno de los videos más virales de este año. Ha registrado alrededor de 18 millones de visitas solo en el canal de YouTube de la marca.
6. Bodyform
El anuncio de Bodyform fue aplaudido por su representación realista de los períodos. No solo mostró sangre en lugar del líquido azul para hablar de períodos, sino que también mostró a una mujer menstruando y sangre goteando por el interior de sus piernas. El objetivo era romper el tabú en torno a la menstruación y crear más conversaciones.
7. Indesit
Titulado, The Hero Dad, que representa las actividades cotidianas de una familia desde el desayuno hasta la cena, el video mostraba a un hombre que se despertaba antes que los demás en casa, arreglaba las comidas y hacía todo lo demás en la casa antes de irse a trabajar. Termina, al preguntar a los espectadores una pregunta muy importante, mira el hermoso anuncio.
8. Squarespace Super Bowl – John Malcovich
En este divertido anuncio, el actor John Malcovich tiene dificultades para aceptar el hecho de que otra persona es dueña de su nombre de dominio.
9. Burger King
Según la fuente: Nobully.org, el 30 por ciento de los escolares de todo el mundo son intimidados cada año y la intimidación es el acto número 1 de violencia contra los jóvenes en los Estados Unidos hoy en día. Esto ha sido bellamente resaltado en el video de Burger King.
10. Volvo
Es uno de los anuncios más llamativos que captura toda la vida de una mujer en tres minutos para enfatizar las características de seguridad del automóvil.
Blog Marketing - Marketing Digital - Blog Marketing Digital - Agencia Marketing Digital - Marketing Digital Colombia - Marketing Digital Agencia Colombia