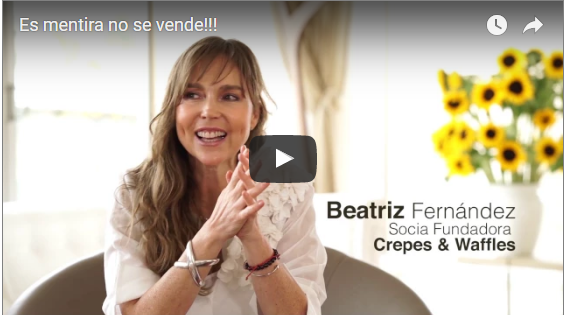 Blogs Marketing Digital - Blog Marketing - Marketing Digital - Blog Marketing Digital - Marketing Digital Colombia - Marketing Digital Agencia Colombia - Agencia Marketing Digital
Troll Marketing? WTF?
podrán pensar… pero en efecto esta campaña que está en boca de todos de la marca Creppes and Waffles es todo lo contrario a una campaña de Marketing tradicional.
En todo lo que no se debe hacer, esta marca ha logrado que hablen de ella para bien o para mal.
Esto es lo que llamo TROLL MARKETING.
Un video viral, con buen presupuesto eso si, pero con una cantante que ni canta, ni rapea, que tiene la plata pára hacerlo… (yo también haría con mi plata lo que quisiera) sale a defender el trabajo de su vida, su negocio, su emblema.. SU MARCA de los oscuros intereses de quien sabe quien, para desestabilizar económicamente a esta empresa.
Lo logró de forma original la marca Creppes and Waflles, que ha sido querida por todos, confirma que se queda, no se acaba, no cerrará y no despedirá empleados. #MientenLasMentiras.
La empresaria Beatriz Fernández creó una respuesta (protesta) con su canción y lo presentó en el canal de YouTube de Jazmin Tangarife, en la que ella dice de si misma ser una "niña", una "niña que siente, y que sufre por los que sufren".
De empresaria a Estrella de YouTube en 1 día… sorry por los youtubers.
Hay memes, es todo un fenómeno en las redes sociales y al final quien sale bien parado? claramente no la señora que no canta o intenta rapear peor que mi vecina en la ducha… pero su marca se posiciona y genera solidaridad.
Por qué es caso de exito?
esencialmente reúne 3 componentes:
La gente está hablando, para bien o para mal y eso genera Awareness.
El video se ha vuelto viral y posiciona la marca.
El Buzz logrado en las redes, en general es de apoyo a su intención y en contra de quienes .#MientenLasMentiras.
Le da una cara y personalidad a la marca que si bien ha estado ausente del marketing digital mucho tiempo, ahora genera algo diferencial.
Desmiente de forma disruptiva un rumor.


Troll Marketing:

Definición por Daniel Palacio
Dícese de la forma disruptiva de trollear a los que te hacen la vida imposible, de una manera donde el que queda bien parado eres tu 🙂
Conoce nuestras agencias:
Diseñamos tu sitio Web
http://www.paginas-web.com.co